Digital Photography (Group 1)
The format of our very popular group is where a topic is set for a month.  At the end of that month a small number of photographers bring their shots to a meeting on a memory stick and the group critiques the photos with helpful comments.  We encourage all our members to contribute to discussions and these have included night photography, panoramas, photo stitching, short videos and editing.  One of our outings was to Asthall Manor where our photographers were presented with great weather and sculptures.
HB 30/11/2015
Digital Photography (Group 2)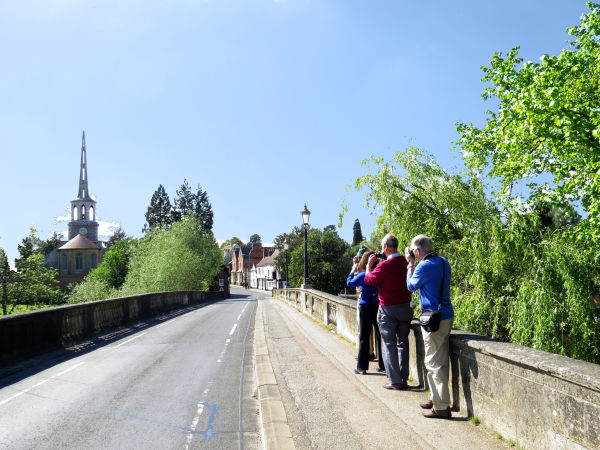 If we are not out on 'photoshoots' or having informative sessions with guest speakers, our usual monthly meetings consist of our sharing a few photos on a previously chosen theme and one (or more) of our members will share their knowledge on a specific topic about which they are familiar or one which they have researched for our benefit.  We have also watched a couple of useful DVDs on photographic techniques and have studied topics such as macro; spot metering; shutter speed and aperture; motion; still life; portraiture and wildlife photography.
Our group is a very friendly one which, unless we are out on location, meets in one or other of our houses and, for this reason, the group has to be kept small so that we are all able to see a TV screen.  Our cameras and experience are fairly varied but hopefully we work to improve our skills and enjoy the friendly support.
Sylvia Harrison 25/11/2015
Digital Photography (Group 3)
This digital photography group has been newly formed because our other two groups were oversubscribed.  This subject is becoming increasingly popular.  If you have an interest, at whatever level, try this group.
HB 13/06/2016
Computer Group 1 
The group is a long-standing group and the standard topics have now been covered a number of times. The group now selects items into which they want to research.  Recently they have looked at Facebook and ways to use it to share computer tips.  Many of the members use tablets too, so discussions cover a range of devices from smart phones to PC.
HB 30/11/2016
---
Computer Group 3 – Mac Users 
This group meets to share experiences in using iMac (desktop) and MacBook (laptop).
HB 13/06/2016
Computer Group 4 – iPad
This group meets to share experiences in using iPads.
HB 13/06/2016
Science
A newly-formed Science Group has had its inaugural meeting under the leadership of Arnold Grayson and will meet on the third Tuesday of the month (see listing).
The Group will look at different aspects of both physical and biological sciences the way they can impact on our lives.
---